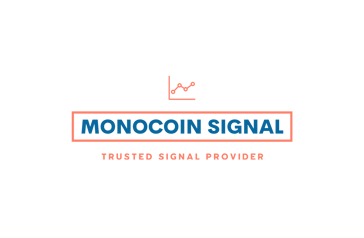 RIF Coin Soars to Top of Binance's Gainers List
RIF cryptocurrency has surged to the top of Binance's gainers list. Learn more about the reasons behind its recent gains and whether it can maintain its momentum in this article.
ALTCOINS ANALYSIS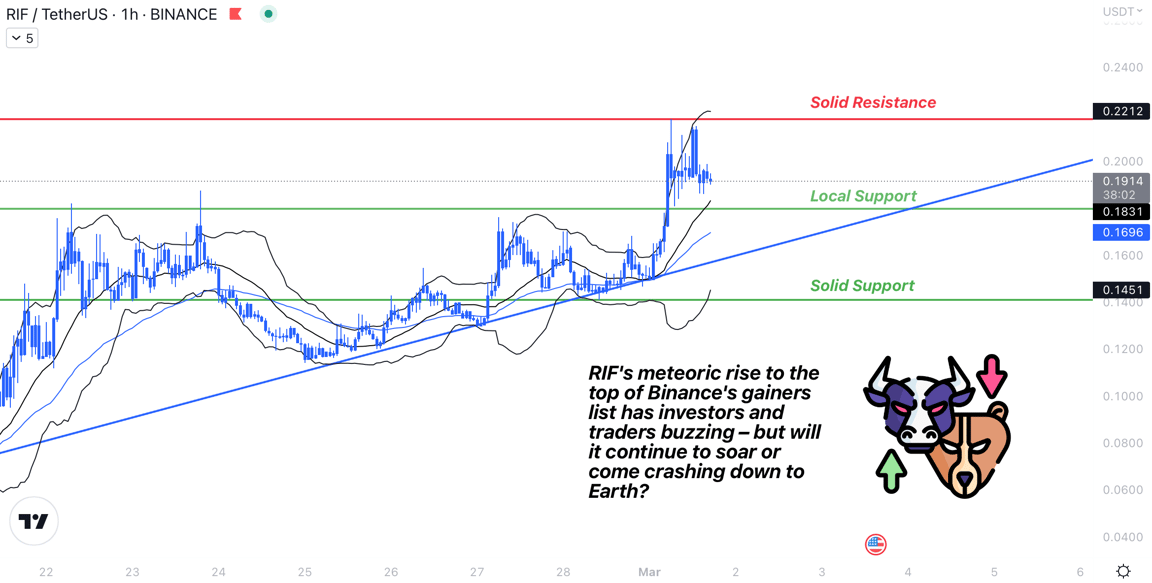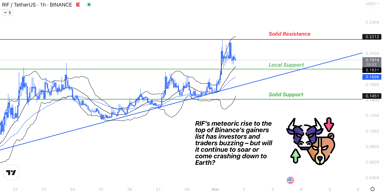 Hello there! Let's take a look at RIF, shall we? Currently, RIF is trading at $0.1927 with an RSI of 57 in a 1-hour timeframe. This coin has recently gained a lot of attention due to its impressive performance on Binance, where it is now ranked as the number one gainer coin on the exchange.
While RIF's recent performance on Binance is certainly impressive, it's important for investors not to get caught up in FOMO (fear of missing out) and to approach investing in cryptocurrencies with caution.
Now, what does this mean? Well, the Fibonacci retracement levels suggest that there are potential support levels, with the 0.5 Fibonacci at $0.1794 potentially acting as a strong support level. However, the price is currently trading below the middle Bollinger band, which tells us that the market is in a bit of a bearish phase.
Now, let's talk about the indicators. The volume oscillator is at -30%, which is telling us that traders may be waiting for more clarity before making any significant moves. The MACD is positive at 0.0103, indicating bullish momentum. However, the negative volume oscillator suggests a lack of interest from traders. The stochastic oscillator is in neutral territory, which suggests that the market may be consolidating.
What would be the next resistance?
Ah, great question! If we take a look at the Fibonacci retracement levels, we can see that the next resistance level after the 0 Fibonacci at $0.2178 would be the 0.382 Fibonacci level at around $0.2354. This level represents a potential area of resistance where the price may encounter selling pressure.
It's important to keep in mind that resistance levels are not set in stone and can change depending on market conditions. However, based on the current information available, the 0.382 Fibonacci level is a potential area to watch for resistance. As always, it's important to keep an eye on the indicators and adjust our analysis as new information becomes available.
Overall, it seems that RIF is in a bit of a bearish phase at the moment, but there are potential support levels at the Fibonacci retracement levels. The market seems to be waiting for more information before making any big moves. The bullish MACD may provide some support for the price, but we will have to wait and see if it can overcome the current bearish momentum. Keep an eye on those indicators and let's see where RIF takes us!
Let me know if you guys have any questions; I will be more than happy to help. Good luck, and thank you.Thank you for reading our analysis of ADA. Our team of expert traders and analysts provides up-to-date insights and technical analysis on various cryptocurrencies and markets to help you make informed trading decisions. For more trading tips and market analysis, be sure to subscribe to our newsletter and follow us on social media. If you have any questions or feedback, please don't hesitate to reach out to us. We're always here to help you navigate the exciting and ever-changing world of cryptocurrency trading.