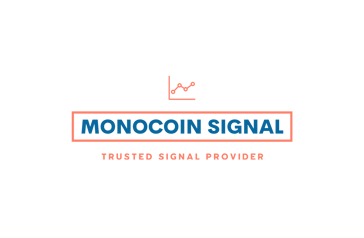 MATIC's Market Resilience
Explore an in-depth analysis of MATIC's performance as of October 12, 2023. Delve into the crypto's prevailing price, its potent Layer 2 scaling solutions for Ethereum, and insights into future trajectories rooted in technical and fundamental dynamics. Understand the pivotal role of the U.S. Dollar trend and Ethereum's performance in shaping MATIC's future.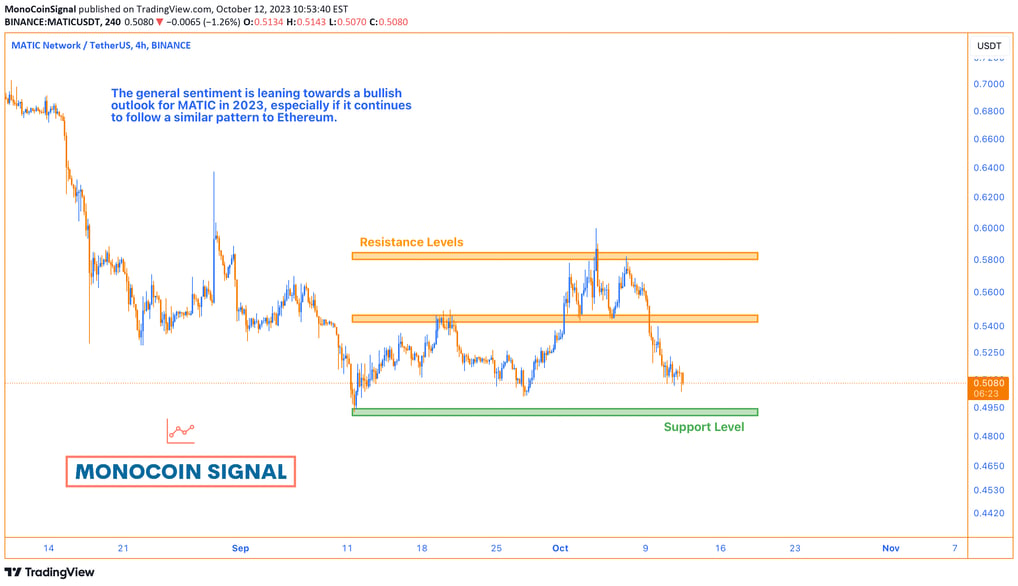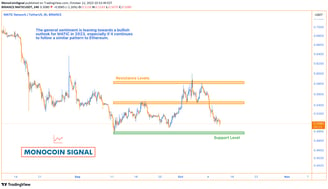 On October 12, 2023, MATIC is priced at $0.5090, holding strong in a shaky market. Polygon (MATIC) has caught the market's attention mainly because of its Layer 2 scaling solution for Ethereum. This has led to increased interest from institutions, new partnerships, and a positive outlook in the crypto market, propelling a 57% growth since the start of 2023.

Most Probable Scenario:

The technical analysis for MATIC shows mixed signals with both bullish and bearish outlooks. On one hand, the inability to reclaim the 50-day EMA has triggered a sell-off, hinting at a potential test of the crucial $0.49 support level. Additionally, a possible bearish flag pattern suggests a further decline towards the $0.50 mark. On the other hand, Elliott Wave analysis presents a bullish outlook, hinting at potential upward movement in the near term.

MATIC's price behavior has shown similarities to Ethereum's past price action, suggesting a possible strong rally in 2023 if this pattern holds. Like Ethereum, MATIC's price was positively impacted by a bearish reversal on the U.S. Dollar (DXY), which could play a significant role in its future price movement.

In the short term, analysts project a price of $0.54246 by October 12, 2023, and $0.745609 by October 14, 2023. However, the general sentiment is leaning towards a bullish outlook for MATIC in 2023, especially if it continues to follow a similar pattern to Ethereum.

This analysis brings together a range of technical and fundamental factors that could affect MATIC's price. Continuous monitoring of market dynamics, particularly the U.S. Dollar trend and Ethereum's performance, alongside MATIC's fundamental developments, will offer a clearer understanding of its future price trajectory.