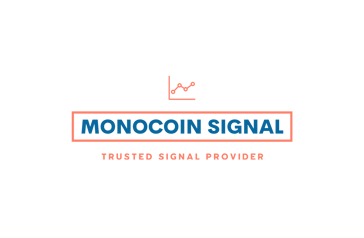 A Glimpse Into the Bullish Future
Explore Solana's performance dynamics amidst the recent market pullback. Get insights into SOL's 20% growth over 30 days, its pullback to $22, and the potential for a bullish turn. Learn about the increasing Total Value Locked in the Solana network and the potential indicators hinting at SOL's positive price action.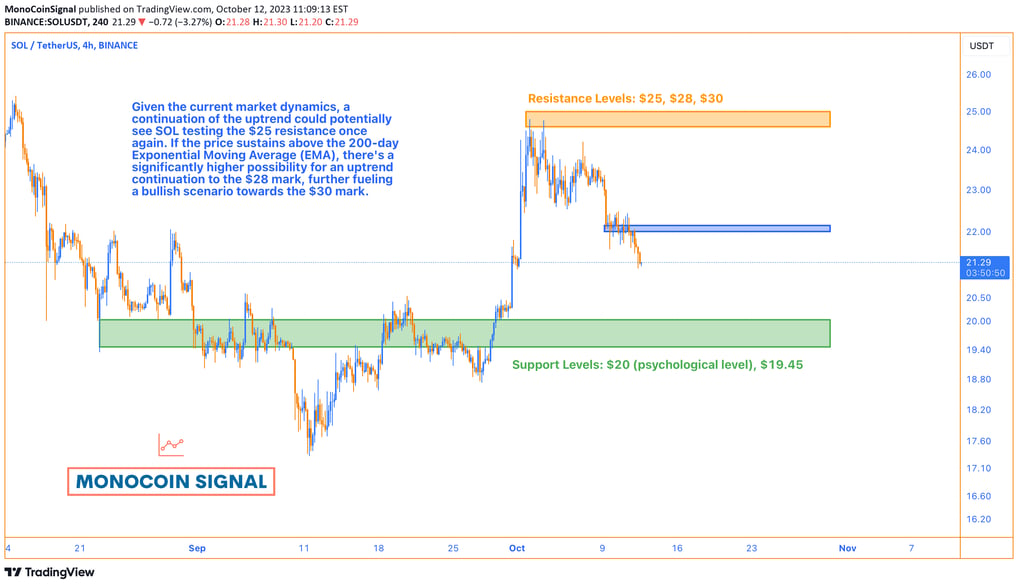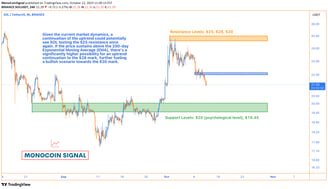 Solana has been showcasing a robust performance despite recent market pullbacks, gaining around 20% over the past 30 days, compared to Bitcoin's 5% rise. The price action for SOL has seen a pullback to the $22 mark, after facing rejection at the $25 level, which now acts as a key resistance point. This pullback phase is seen as a retest of the upside breakout, hinting at the opportunity of a positive turnaround. The Total Value Locked (TVL) in the Solana network has reached a new yearly high of $337.49 million, indicating a strong interest in the Solana ecosystem despite a drop in price since October 2, from a high of $24.79 to a low of $21.79 on October 12.

Most Probable Scenario:

Given the current market dynamics, a continuation of the uptrend could potentially see SOL testing the $25 resistance once again. If the price sustains above the 200-day Exponential Moving Average (EMA), there's a significantly higher possibility for an uptrend continuation to the $28 mark, further fueling a bullish scenario towards the $30 mark.

Additional Insights:

The rising price of SOL amidst a falling Bitcoin price signifies a potential decoupling, paving the way for further appreciation in SOL's value. Technical indicators are hinting towards a positive price action in the near term, despite a bearish sentiment in the broader market. The present scenario reflects a crucial juncture for SOL, as it treads carefully over vital support zones, preparing for a potential bullish journey in the upcoming altseason.